Learn about the work of famous Irish writers including Maeve Binchy on a guided walking tour through Dalkey heritage town.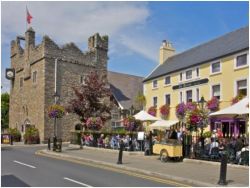 From Dalkey Castle, along the streets, walkers will enjoy snippets from the work of Maeve Binchy, James Joyce, GB Shaw, Hugh Leonard and Flann O'Brien, just for starters. All four Nobel Laureates have Dalkey connections.
Enjoy extracts from Maeve's work in The Maeve Binchy Memorial Garden in Dalkey Library.
Thursdays at 18.30 and Fridays at 13.15. June to September.
The walk must be pre-booked. Minimum number 10, maximum 28.
Tickets €12. Tel 01 2858366 or email info@dalkeycastle.com
Find out more about Dalkey Castle and Heritage Centre at www.dalkeycastle.com